Welcome to The Five Nights at Freddy's World Wiki
A informative encyclopedia dedicated to
FNaF World that
anyone can edit
!
We are currently maintaining 240 articles and 2,118 files, and 48,683 edits and and 19 active users!
Today is Sunday 18 February 2018, 11:47
Please be sure to thoroughly read the
Rules & Guidelines
before you begin editing.
Need help? See the founder: A Mystery Anamatronic.

This Wiki is dedicated to the 2016 RPG game, made by Scott Cawthon, based around his best selling series Five Nights at Freddy's. Instead of getting jumpscared, you can create parties and go on adventures with these new Adventure Animatronics!
Featuring the entire cast from the Five Nights at Freddy's series, this fantasy RPG will let players control their favorite animatronics in a an epic animated adventure.
With 40 playable characters, multiple endings, multiple difficulties, and a great soundtrack from artist Leon Riskin, FNaF World hits the ground running and doesn't stop. Take control of Freddy and the gang as they set out on a quest in the world beneath worlds, a world that reflects the actions and deeds of the "flipside," where things have started becoming distorted and broken. Lead your team deeper into this digital world to find the source of these glitches and monsters, and restore it to what it was designed to be- a safe haven.
But be careful, behind the curtain there may be something even more sinister pulling the strings...
Join the Party>
Get the Wikia Game Guides App!
Access constantly updated, highly accurate guides and game walkthroughs created and maintained by our community of gaming experts.
DOWNLOAD NOW FOR FREE!
Fredbear is a golden-colored variant of Freddy Fazbear wearing a purple bowtie, and a top hat, appearing as a smaller version of his counterpart from the Five Nights at Freddy's 4 mini-games. Also if one looks closely, he lacks some joints, such as his kneepads, and unlike his core series counterpart, he has two buttons and only has four fingers.
Who should be the next character of the week?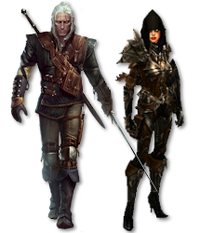 RPG Games
Go to these sites for info or for help with your own wiki!
AdventureQuest • Agarest War • Arcanum: Of Steamworks and Magick Obscura • Baldur's Gate • Dark Souls • Deus Ex • Diablo • Divinity • Dragon Age • Dragon Blaze • Dragon's Dogma • Elder Scrolls • Fable • Fallout • Faster Than Light • Fate/Grand Order • Five Nights at Freddy's World • For Honor • Hyper Light Drifter • Ib • Legend of Heroes • Mass Effect • Might & Magic • Onmyoji • Shadowrun • Summoners War • Tom Clancy's The Division • Torment • Undertale • Wasteland • The Witcher
Want your community included? See how!

</div>